This is definitely not a hard one, because my biggest weekness is food. I can eat the crap out of food! I try everything! Unless it's brain or some kind of weird animal body part or whatever. Maybe it's because my chef of a momma made me try and eat everything in front of my face.
1.
Puerto Rican Food
-I grew up on this. I can never get tired of my mommas cooking. She's good! I'm not even sure if there are any Puerto Rican restuarants in the middle TN area, so my mom's will always be considered the best. 
Arroz con gandules y pasteles-yellow rice with pigeon peas and wrapped green banana stuffed meat pastries
2.
Mexican Food
-Even though my mom is Puerto Rican, my dad is Mexican so my mom did Mexican food as well. So with that said, I grew up on this food as well. I had a good variety of food at my fingertips. 
Tacos al Pastor-Marinated pork tacos
3.
Italian Food
-Gosh I lurve me some pasta!!! I could eat pasta just about everyday. Anything with creamy garlic sauces...yummmm!!! 
Creamy garlic pasta
4.
Chinese Food
-Oh my gosh, the perfect chinese dish for me = Chicken Lo Mein with fried rice and a side of Wonton soup!!!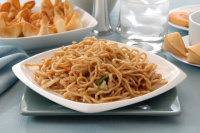 Chicken Lo Mein
5.
American Food
-Give me a cheeseburger any day of the week. Horrible yes, but who cares! I wouldn't mind dying with a cheeseburger in my mouth. Definitely a comfort food.

If you haven't tried Five Guys, they have some awesome
handmade burgers.